Object of The Month: November – The Lucknow Silver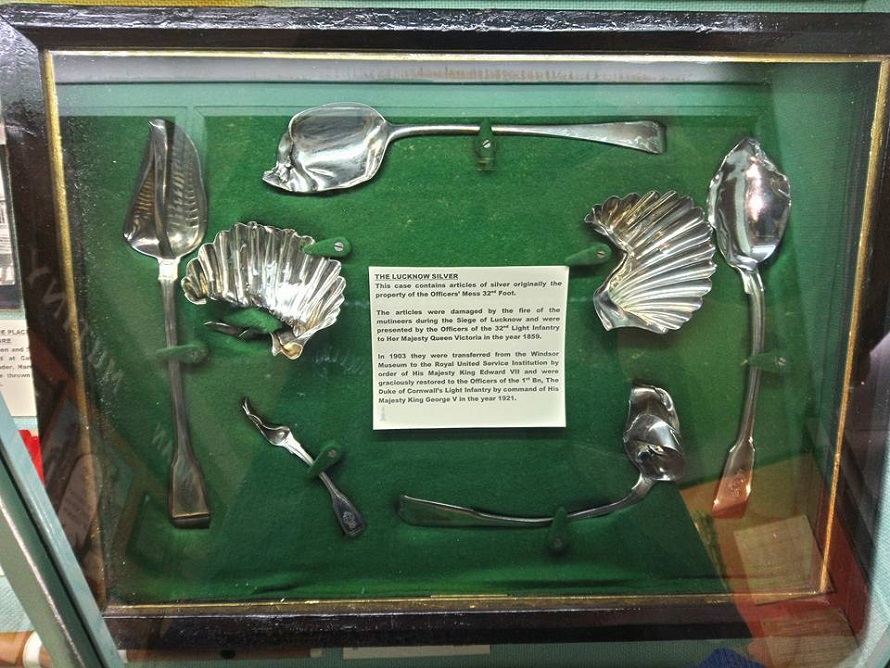 These once fine articles of decorative silver bear the scars of The Siege of Lucknow, which occurred during the Indian Mutiny of 1857.
In 1856, Lucknow, the capital of what was then the state of Oudh in India, was annexed by the British East India Company, and became the home of the British commissioner for the area. Unrest amongst the sepoys (Indian troops) was becoming increasingly common across India as resentment over the suppression of the sepoy's religions and culture by the East India Company grew stronger.
In May 1857, the situation reached boiling point when the Pattern 1853 Enfield rifled musket was introduced to sepoys throughout India. Musket drill called for soldiers to bite the cartridge open, before pouring the gunpowder into the muzzle, however, the new Enfield cartridges were greased with beef and pork fat to make them waterproof, and therefore their use was in violation of the religious codes of Hindu and Muslim soldiers. Although mutton fat or beeswax could arguably have presented an alternative, some British Officers dismissed their soldier's concerns.
Refusal by sepoys to 'bite the cartridge' (the origin of the phrase 'bite the bullet') caused further hostility, and by May 10th widespread revolt had broken out.
"All British women and children have been ordered to leave their bungalows and go to the safety of the British Residency – packing all afternoon for myself and our 3 boys.

My husband says we will never return to our home."

An extract from the diary of Lady Inglis, dated 16th May 1857
British Commissioner Sir Henry Lawrence, his troops, and over 1,000 non-combatants fortified themselves in the British Residency and remained there, under siege, from May 30th until November 27th.
The Lucknow Silver was originally the property of the Officer's Mess of the 32nd Regiment of Foot (an antecedent regiment of the DCLI and LI), who were fortified within the British Residency during the siege. The damage to the silver was caused by rebel fire on the Residency.
Loss of life amongst the rebels is sadly unknown, but around 2,500 British were killed, with Lawrence himself dying from wounds on July 4th. Lucknow was eventually evacuated and left to rebel hands until its recapture the following year. In one day, troops sent to relieve Lucknow earned 24 Victoria Crosses, the highest amount ever in a single day's action.
In 1859, the regiment presented the Lucknow Silver to Queen Victoria. They were restored to the regiment by King George in 1921, and are now on display on the first-floor gallery of Bodmin Keep.
The Lucknow Silver is one of a number of poignant objects in the museum telling the story of the Siege of Lucknow and those who found themselves caught within it, both soldier and civilian.
Find out more about the 32nd Cornwall Regiment of Foot, and a new appeal to Find the Soldiers of the Waterloo Campaign.
See our Object of the Month for October 2017 here: The Sketch Map of the Battle of Corunna