The museum has reopened. We look forward to seeing you soon.

Admission:
Adult ticket: £7.00, Child ticket: £3.00, Under 6s: free, Carers, Annual Pass and Ex-DCLI/LI: free
Health & Safety
To conform to government guidance and to support safety on our site, group numbers are limited to 6 people or two households (maximum capacity per timeslot is 12 people.
Please arrive for the start time of your booked slot, you will then have an hour to visit the museum. Please note that at the half way point of your visit (the end time on your booking slot), a further group will arrive. Please ensure you conform to social distancing rules when in the museum.
We hope that you enjoy your visit!
If you qualify for free entry because you hold an annual pass, are a veteran of the Duke of Cornwall's Light Infantry or Light Infantry, or hold a Museums Association of SWFed card, please book a reservation and show your pass or card on arrival.
We will ask for contact details of all visitors over 16 so that we are able to assist the NHS Test and Trace scheme. We will not use your details for any other purpose and we will destroy them after 21 days, unless you opt in to receive marketing communications from us.
You will receive an email from Eventbrite confirming your booking. Please check your spam or junk folders if you don't receive it within a few minutes.
Please arrive in time for your booked slot – if you are late we may not be able to accommodate you.
How we're keeping you safe…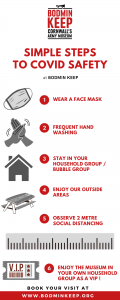 In order to make your visit as enjoyable and stress-free as possible please read the information below detailing the safety precautions in place and details of payment for your visit.
On arrival at the museum you may wish to park in the museum car park to the rear. You will then need to exit the gate, turn left and walk round to the main front gate of the museum.
On arrival at the front gate you will be greeted by a member of the museum team. Please ensure that you and your party are wearing a face covering on arrival in line with government guidance. This is to protect yourselves and our team. We are operating a 2 metre socially distancing policy on site and we ask that you conform to this when interacting with our team.
Your visit will start with a safety briefing and check in via the NHS Track and Trace app or the collection of your details by a member of our team. You will then have the chance to visit the historic regimental cells before being taken into the main building (stopping to use the toilets first if needed). You will have an hour to visit the museum.
Face coverings must be worn throughout your visit to the museum from the point of entry to the site to leaving the premises. There will be hand sanitising stations around the museum and we encourage you to use them regularly to ensure a safe and comfortable visit. Your final stop will be the museum shop which leads to the exit. Please sanitise your hands before entering the shop. We would be grateful if you would also minimise touching the products on display in the shop.
We hope you have a fantastic time visiting the museum. If you have any queries please don't hesitate to get in touch on booking@bodminkeep.org
You can watch our video guiding you through our reopening procedures here: