Bodmin Keep welcomes visitors from Tuesday to Saturday, 10AM – 5PM (last entry 4pm).
We are open throughout the winter except for our Christmas closure, 24th December to 4th January.
Pre-booking is no longer required but we would still encourage visitors to wear a mask to protect themselves, visitors, volunteers and staff.
We look forward to welcoming you to the museum!
Admission:
Adult ticket: £7.00, Child ticket: £3.00, Under 6s: free, Carers, Annual Pass, Culture Card and Ex-DCLI/LI: free
How we're keeping you safe…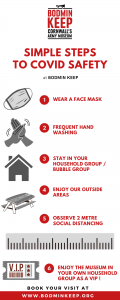 In order to make your visit as enjoyable and stress-free as possible please read the information below detailing the safety precautions in place and details of payment for your visit.
On arrival at the museum you may wish to park in the museum car park to the rear.
Please ensure that you and your party are wearing a face covering on arrival. This is to protect yourselves and our team. We are operating a 2 metre socially distancing policy on site and we ask that you conform to this when interacting with our team.
Face coverings must be worn throughout your visit to the museum from the point of entry to the site to leaving the premises. There will be hand sanitising stations around the museum and we encourage you to use them regularly to ensure a safe and comfortable visit. Your final stop will be the museum shop which leads to the exit. Please sanitise your hands before entering the shop. We would be grateful if you would also minimise touching the products on display in the shop.
We hope you have a fantastic time visiting the museum. If you have any queries please don't hesitate to get in touch on booking@bodminkeep.org