SUMMER HALF TERM: Tuesday 31 May – Saturday 4June
This Summer half term, we have lots of FREE fun activities on offer for all the family. Learn a new skill; from bushcraft and survival skills to crochet and how to make paper, lavender bags and seedling pots from sustainable materials.  You can even make crowns and paper chains to celebrate the Queen's Jubilee and enter our regal pose competition!
Most activities are free and drop-in but some have limited numbers. 
Visit our events page to see what's on each day as different activities are programmed daily. Our FREE events are not part of a museum visit, but the museum will be open if you would like to make that part of your day! Admission is still GREAT VALUE at £7 for an adult annual pass and £3 for a child, which can be used as many times as you like for 12 months!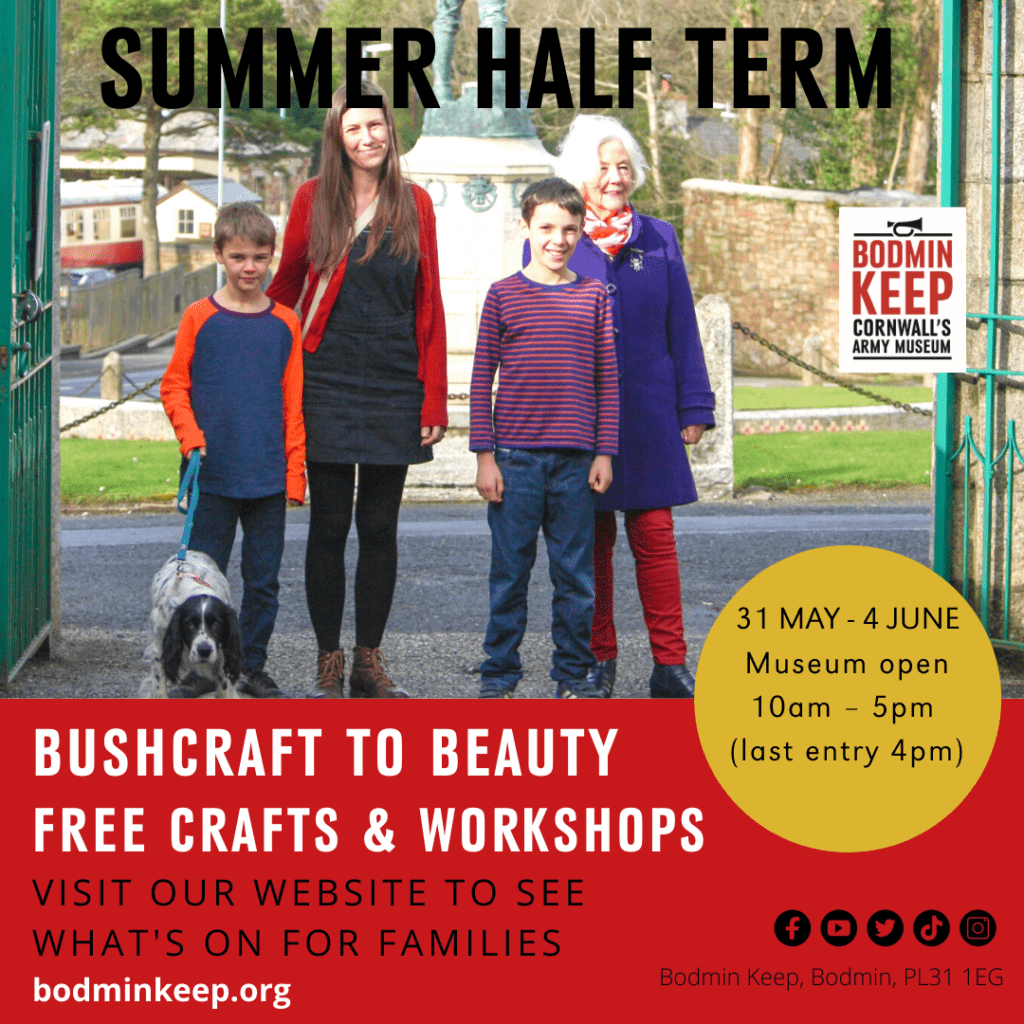 SUMMER HALF TERM AT BODMIN KEEP DIARY DATES:
31 May & 1 June, 10am – 4pm: Bushcraft and Survival Skills
Learn how to start a fire and use everyday materials in survival situations with retired military personnel from Footsteps of Discovery. Sessions at intervals.
31 May, 10am – 4pm: Curator's Curiosities
Get up close to some curious objects, which have been specially chosen by our Trainee Curator, Fran. Find out about their stories in short, family-friendly chats!
31 May, at intervals: Keep Calm and Crochet, For All the Family!
Join Zillah to learn the basics of crochet in small groups. Have a go at making your own dish cloth from string to take home!
31 May, 10am – 4pm: Wartime Beauty Hacks
Learn about the creative ways women handled shortages and some surprising vintage beauty hacks with Bodmin hair and make-up artist Carolyn Maddox.
31 May, 1 June, 2 June, 4 June, 10am – 4pm: Make Do and Mend Display
Explore how making do with limited rations became a way of life for those on the Home Front during wartime and links to sustainability today!
1 June, 10am – 4pm: Make a Lavender Bag
During wartime people often made gifts for one another because of shortages. Have a go at making your own lavender bag from fabric scraps!
2 June, 10am – 1pm: Problem Solving Challenge
Meet Active Plus, who use the skills, experience and expertise of injured and retired military veterans to deliver unique activities. Put your problem solving and communication skills to the test and discover how military experience can translate to real life problems.
2 June, 1pm – 4pm: Paper Making
Paper was in short supply during the Second World War and salvage encouraged the recycling of materials to help the war effort. Learn how to make your own piece of paper with our friendly team.
3 June, 10am – 4pm: Jubilee Crowns, Paper Chains and Competition
Make your own Jubilee crown and paper chains to take home. Pose in your regal crown and enter our competition!
4 June, 10am – 4pm: Make a Seedling Pot
During wartime people reduced, reused, and recycled wherever possible. Make your own biodegradable seedling pot from newspaper to take home.
The Tresorys Kernow project is funded by the UK Government through the UK Community Renewal Fund. Cornwall Council has been chosen by Government as a Lead Authority for the fund and is responsible for monitoring the progress of projects funded through the UK Community Renewal Fund in Cornwall.