In this post, our valued member of the 2021 voluntary Citizen Curator programme, Runi Liverod, discusses his research into Walker Lines; Bodmin's very own US Army Camp during the Second World War…
About me
Before volunteering as a Citizen Curator at Bodmin Keep, I had never considered the challenges involved in undertaking purely online research.
I'm someone who always has his head in a book. Coincidentally, I'm also that person with dozens of browser tabs open at any given time; looking at anything from the social behaviours of insects to photographs of sunken wrecks. I'm also attracted to the idea of physically handling archival documents. I have one particular memory of a school trip to Kresen Kernow that really inspired me. I loved looking at newspaper articles and documents in the microfilm reader, it made history feel tangible. Though, of course that option is no longer viable. Due to COVID-19, for my Citizen Curator research, I've been confined to my bedroom and sofa, creating iterations of the same search terms that have become increasingly specific:
"How do you find the land a Council owns?"
"How do you find the land a County Council owns UK?"
"How do you find the land Cornwall County Council owns Bodmin?"
MY RESEARCH
The area of research I am exploring as a Citizen Curator is the history of the Walker Lines Army Camp, now known as the Walker Lines Industrial Estate. 77 years ago, Walker Lines was used by American GIs training in Cornwall to prepare for D-Day. After the war, and amongst other things, the site was also home to the Joint Services School for Linguists (JSSL).
I've found it very hard to research a place without visiting it. Not just in the practical sense of having my own photographs and things, but in the sense of feeling like I'm missing a reference of direction and scale. I'm one of those people who has never really been to north Cornwall. When I was a child, I had it in my head that St Austell was somehow in the north of Cornwall. And now I'm researching Bodmin without even having visited!
Google street view has helped, as well as the photographs I have been sent from the Bodmin Keep archives for research purposes. It's amazing to see that some of the buildings on the Walker Lines Industrial Estate are original. You see the corrugated walls and think; 'Well, aren't all buildings on an industrial estate like that? They're all just hunks of concrete and corrugated iron' (which I've found through my research is actually steel).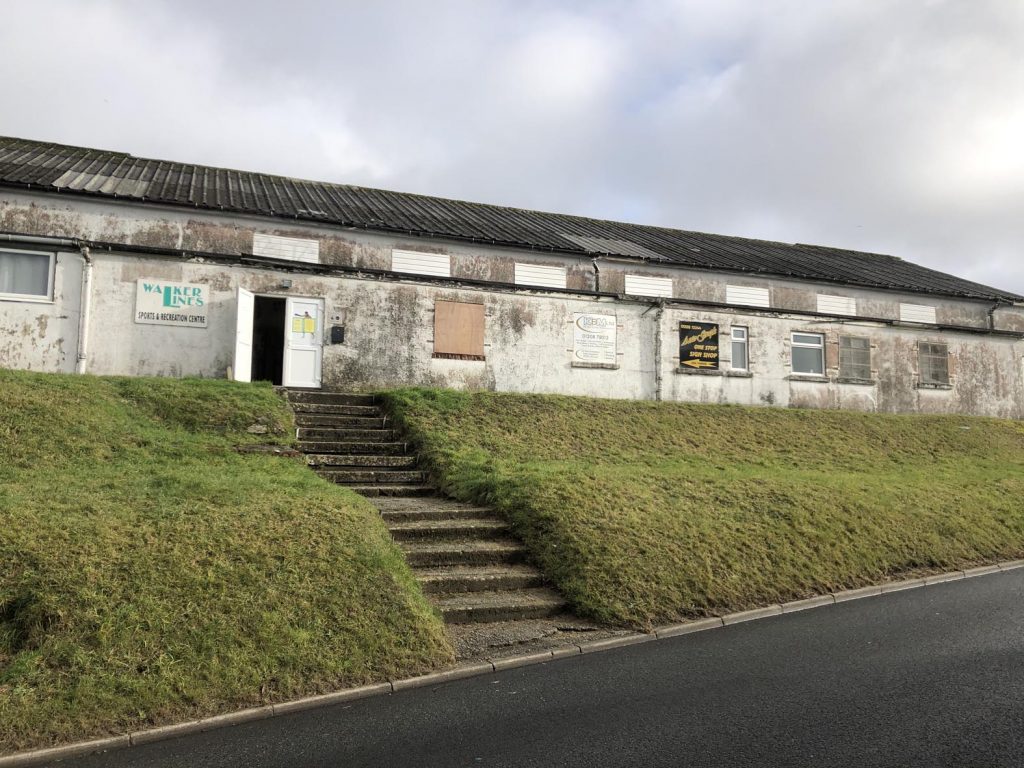 Knowing that American troops were housed in some of those buildings on the lead up to D-Day makes me wonder what else I'm missing. What else seems mundane but has a story behind it? There are of course subtle reminders of the industrial estate's original purpose. A prominent example of this can be found in some of the road names on the site (Normandy Way, Omaha Road, Lucknow Road etc.). As well as the original wartime gymnasium currently being restored by the Walker Lines Gymnasium Trust (see above).
I've since discovered many things about the general layout and structure of military camps. Over time, there has been an evolution of barracks that mirrors the advancement of warfare. Like poison dart frogs and the snakes that prey on them caught in an unending cold war; one secretes more toxins – the other evolves to safely digest them. Similarly, ordinance grew to be more powerful in response to more heavily armoured ships and barracks evolved to house the explosives away from the soldiers. Another example, reflected in the layout of Walker Lines, is the development in Aerial warfare. Aircraft took flight to destroy military camps on the enemy's home front and the barracks evolved to be scattered apart to fool pilots from above.
With lockdown restrictions being eased up, hopefully I will be able to visit the Walker Lines Industrial Estate soon. I'd love to get a better sense of the place, of the placement of the buildings and the materials from which they're constructed. Until then, I'll carry on peering at maps and creating increasingly specific Google searches!
Written by Runi Liverod, Citizen Curator at Bodmin Keep
'Supported by our Second World War and Holocaust Partnership with Imperial War Museums, funded by the National Lottery Heritage Fund'