The recipe for this delicious Sponge cake is from Amelia, age 10.
Ingredients
Sponge cake
8oz butter or margarine
8oz caster sugar
3 eggs
2 teaspoons of baking powder
8oz self-raising flour
Decoration
Double cream
3 tablespoons of icing sugar (optional)
Strawberries (sliced), raspberries & blueberries
Method
Preheat your oven to 180ºC.
Grease and line a square-shaped tin with greaseproof paper.
Mix the butter and sugar in a bowl using a wooden spoon or an electric mixer.
Add the eggs, one at a time, mixing well after each addition.
Sift in the flour and baking powder. Mix well.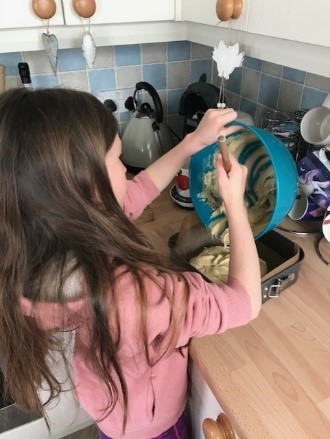 Turn the mixture into your greased tin. Smooth the top.
Bake in the oven for 20 minutes or until golden brown. To check that your cake is cooked, insert a skewer and it should come out clean.
Turn your cake out of the tin and let it cool.
Use an electric mixer to whisk up the cream. Add the icing sugar (if you would like to sweeten it up!) and mix again.
Cover the top of your cake with the cream.
Create a cross using your strawberries.
Make a diagonal cross using raspberries.
Create triangles using blueberries, making sure to leave white spaces as shown on the Union Jack below.