23, 24 & 25 February 2022
George Ellis came to Cornwall in September 1939 at the outbreak of the Second World War and began work for the Cornish Guardian newspaper as a press photographer. His early images show life in Cornwall and the impact of the War including sand bagging, bomb damage, evacuees, the military, American soldiers and celebrations and parties at the end of the War. In total, there are over 100,000 images in this extraordinary collection spanning 35 years which is currently held at Kresen Kernow in Redruth.
Discover Ellis Collection highlights and recreate your favourite wartime scenes in our competition. There are prizes for the best entries!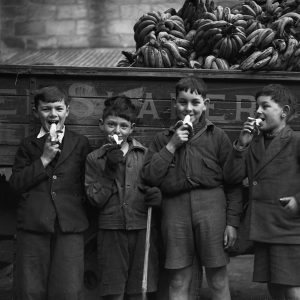 Bananas arrive in Bodmin, 3 January 1946. Image credit: Kresen Kernow.