Saturday 11 June
Join Sara and Sarah from The Repair Generations Project for a visible mending workshop. All materials will be provided although participants may want to bring an item of clothing that they'd like to embellish. Sewing skills aren't necessary and this workshop is suitable for anyone aged 9 years +. Pre booking is essential as places are limited.
About The Repair Generations Project
The Repair Generations Project runs workshops to connect people in the community and demonstrate creative techniques to repair clothes. It responds to circular design goals to keep our clothes in use for longer and reduce waste. This project aims to support local communities to address complex societal challenges, particularly around the huge impact on the environment caused by fast fashion and the over consumption of clothes.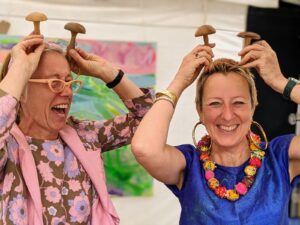 The Tresorys Kernow project is funded by the UK Government through the UK Community Renewal Fund. Cornwall Council has been chosen by Government as a Lead Authority for the fund and is responsible for monitoring the progress of projects funded through the UK Community Renewal Fund in Cornwall.