On Saturday 4th and Sunday 5th September we've organised a free heritage weekend at the Old Library in Bodmin to celebrate Bodmin's Second World War stories. Visitors will be able to see unique photographs of Bodmin in the Second World War, book in for special talks, and enjoy fun family activities.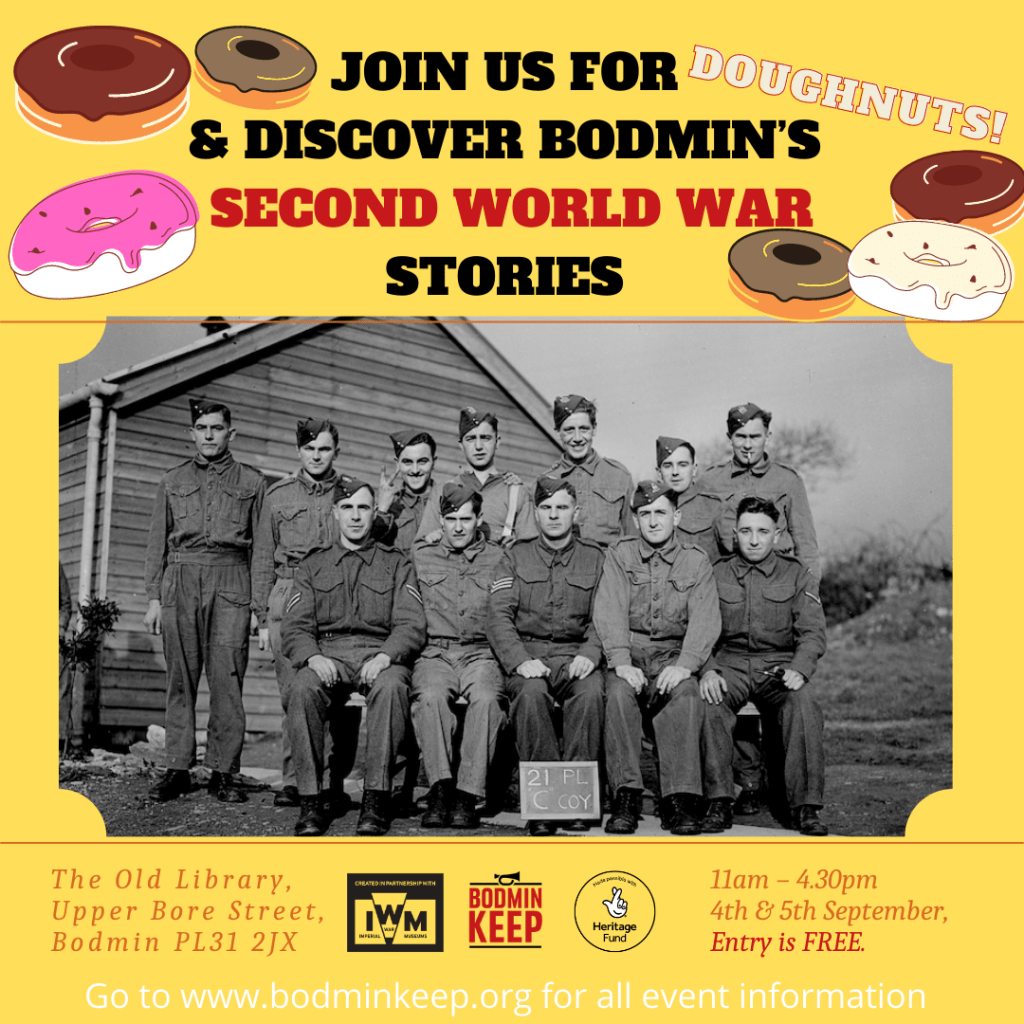 From 11am to 4.30pm on both days, there will be lots to see and do. All weekend there will be a display of unique photographs of Bodmin and its people taken during the Second World War by local photographer George Ellis. Over 100 of these photographs, which are held at Kresen Kernow, have been digisited specially – perhaps you will spot a family member in one of them?
On Saturday 4th at 3pm and Sunday 5th at 3.30pm there will be special talks by relatives of US soldiers who were based in Bodmin in the run-up to D-Day. 'Young Love in Wartime Bodmin' by Susan Kearney, tells the story of the romance between a US soldier and a nurse training in Bodmin and 'A US Soldier in Bodmin in the Second World War, by Gerard Cortese, will give a unique insight into what it was like to be an American soldier stationed in Bodmin from November 1943 to May 1944.
These talks are free and can be joined online via Zoom or in person at The Old Library but advance booking is essential.
Some other highlights of the weekend are:
11 – 12 and 2 – 4pm on both days Bring your family photographs and memories to share with our researchers and enjoy a free cup of tea and biscuits. We can scan your images on the spot and add them to the museum archive.
From 12 – 1pm each day Discover some of the more unusual recipes from the Ministry of Food that people were encouraged to try on the Home Front during the Second World War.
From 12 – 4pm each day 1940s style hair and make-up demonstrations. Find out about what influenced hairstyles of this era and some common hair accessories. Learn about the importance of the humble make-up kit during the Second World War during a demonstration of a classic 'look' which includes some vintage beauty hacks.
The event will be at The Old Library, Upper Bore Street, Bodmin PL31 2JX from 11am – 5pm on 4th and 5th September, Entry is FREE. To book for the talks (which is essential), please use the links below:
BOOK YOUR PLACE AT THE TALKS HERE:
Young Love in Wartime Bodmin' by Susan Kearney – https://talk-young-love-wartime-bodmin.eventbrite.co.uk/
A US Soldier in Bodmin in World WAR 2, by Gerard Cortese
https://a-us-soldier-in-bodmin.eventbrite.co.uk/
This event is supported by the Second World War and Holocaust Partnership with Imperial War Museums and the Museum of Cornish Life, which is funded by the National Lottery Heritage Fund. It has also been made possible thanks to Kresen Kernow and Arts Council England's National Portfolio Programme.