This eye-catching leaflet, appealing for Cornishmen to join the Duke Of Cornwall's Light Infantry, hangs as part of the First World War 1 Display at Bodmin Keep.  During the First World War Bodmin barracks had over 2000 soldiers cross its threshold from all over the country for only a few months of training before being sent into battle.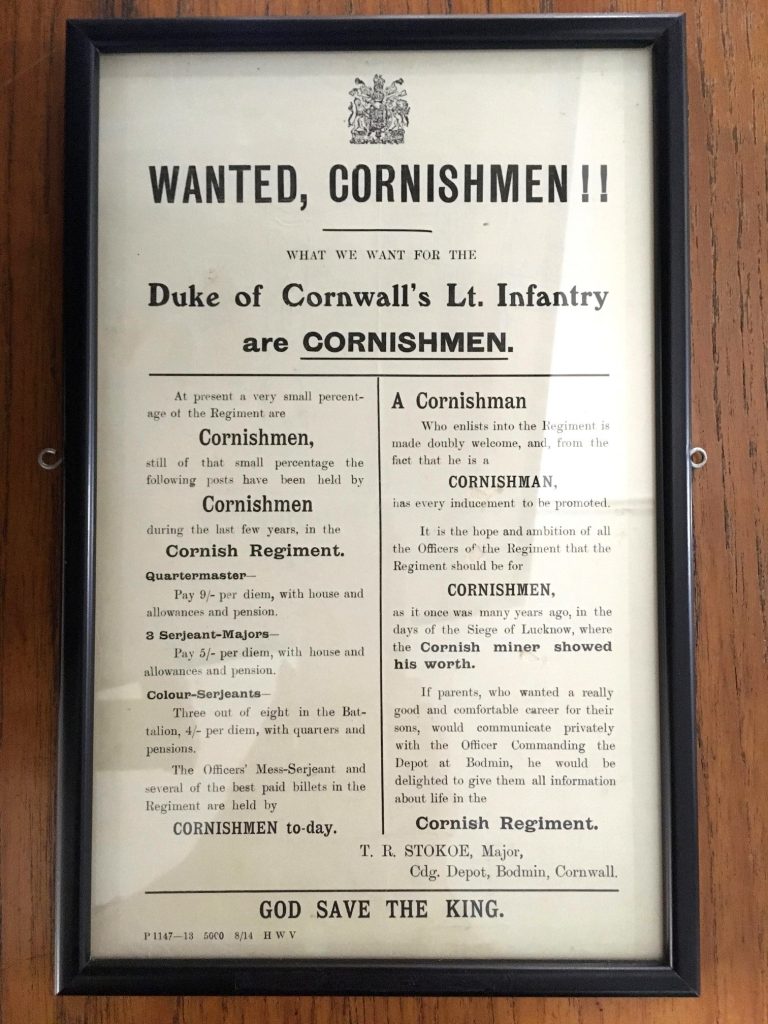 The leaflet gives details of the kind of roles available in the regiment and their potential earnings, with a Quartermaster, who supervised stores and distributed supplies, making 9 shillings a day (just under £20 in today's money) with housing allowance and pension, and promises excellent career opportunities for Cornishmen who wish to move through the ranks.
Before August 1914, the sixth, seventh and eighth battalions of the Duke Of Cornwall's Light Infantry didn't exist. However, during the first two months of the First World War, these three battalions were formed in Bodmin. These battalions were nicknamed "Kitchener's battalions", as they were formed within weeks of the outbreak of the war. Therefore, the men that responded to this leaflet would have arrived at Victoria Barracks in Bodmin and assigned to one of the new battalions.
However, the new recruits were not solely being assigned to new battalions; by 7th August, 650 reservists had joined the first battalion and had been kitted out. After a further six days of hard training, the first Battalion sailed from Dublin to France. This Battalion was involved in the first conflict of the First World War; the Battle of Mons. The sixth, seventh and eighth battalions first saw combat in 1915.
The history of the site dates back even further, with the Keep constructed in 1859 and expanding until by the late 19th century the site included space for stores, cells and living quarters for hundreds of officers. The leaflet even mentions the Siege of Lucknow, which took place in 1857 in India.
The Keep has stood at the centre of local history for over 150 years and has seen countless Cornishmen pass through it.
Bodmin Keep, now a museum is home to a team of dedicated volunteer researchers who help hundreds of families every year to discover their connection to the DCLI, if you have a research enquiry email research@bodminkeep.org.uk. The museum is open Monday to Saturday 10 – 5pm and the recruiting leaflet is on permanent display in the First World War gallery.