The 5th DCLI were a volunteer battalion, part of the Territorial Army which was a part time component of the British Army located in East Cornwall.
Despite being a volunteer battalion the 5th DCLI took part in some of the fiercest and bloodiest battles of the entire conflict in North-West Europe, landing in Normandy on June 22nd, 1944 as part of the 43rd (Wessex) Division, Wessex Wyverns.
This week marks the anniversary of the Battle of Hoven Wood, when on 21st November 1944 , 5th Battalion DCLI took part in the Anglo-American offensive and captured the village of Hochheid. The battle carried on for four days, they were shelled incessantly by heavy guns, fighting under the most appalling conditions, in trenches half full of water.
On November 23, 1944, they faced heavy German counterattacks by the Panzergrenadier Regiment 104 in the northern edge of the forest near Hoven.
At the extreme tip of this wood, on rising ground, lay the village of Hoven which was strongly held by the enemy. The British commander thought that if Hoven could be captured, the task of the Americans on the other side of the valley could be greatly lightened, and he gave orders for the D.C.L.I. to attack the village.
During this counterattack, the Germans attacked the company headquarters, and the British fought to protect it for two-and-a-half hours.
Under cover of the smoke from the burning headquarters, the remnants of the company eventually managed to escape.
After six days the offensive had stalled completely, the 43rd Wessex Division remained in place and held the hard-fought positions around Hoven, Tripsrath and the woods at Hoven for three more weeks before being relieved by the 52nd Lowland Division.
Private Anthony Adams DCLI
Signals Platoon, 5th Battalion Duke of Cornwall's Light Infantry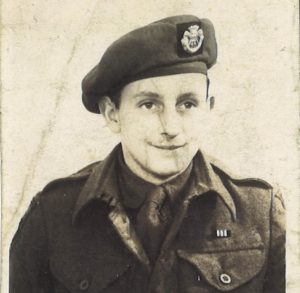 Anthony Adams DCLI was awarded the Military Medal for Hoven Wood. Additionally, he was awarded the 1939-45 Star, France and Germany Star and Silver Jubilee Medal, all pictured and on display at Bodmin Keep.