Patrick Linehan, 2nd Battalion DCLI, celebrated his 100th birthday on Sunday at Bodmin Keep.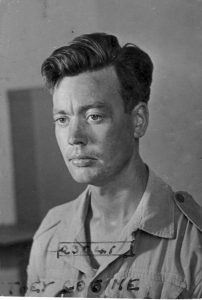 Patrick served with the 2nd Duke of Cornwall's Light Infantry (DCLI) in the Second World War, he was posted in North Africa and was taken as a Prisoner of War in Italy.
In July 1939, a young 20-year old Patrick Linehan registered to become a soldier of the British Army, and by February 1940 he was stationed in Cornwall serving with the DCLI.
After WW2 broke out he was posted to North Africa in 1943, then onto Italy the following year, he was at Monte Cassino where he was facing German paratroopers. He remembers that they had great respect for each other and exchanged tobacco and cigarettes when both sides were clearing dead and wounded from the battlefield between trenches after a fight.
On 25th October 1944, Patrick crossed the River Ronco in torrential rain to secure a bridgehead and was involved in an intense battle with the Germans.
The leading British tank had been knocked out as it attempted to cross the river, blocking the only crossing point, so that the much-needed armoured support was not available. Throughout the night the Ronco River had become a raging flood making it impossible for the DCLI to withdraw.
The battalion suffered heavily; four officers and a hundred and twenty-four other ranks were missing. Some had been wounded but evacuated back across the river in the early stages of the battle, but many of those missing were found later to have been taken prisoner and Private Lineham was one of these men.
Private Linehan must have been dog tired as astonishingly he recalls that he slept though some of the shelling, after managing to catch a nap during a lull in the fighting and whilst waiting for back-up tanks to arrive. He remembers being woken by a smiling German soldier kicking his left leg and helping him get up. He was then taken as a POW to Stalag 7a camp, Moosberg, Munich, and sometime later, was eventually liberated by the Americans and flown to Belgium. He remembers being so happy to be given new uniform & boots by his British comrades whist recuperating in Belguim. He was then flown back to England in an RAF Lancaster and later demobilised from Banbury, in Jan 1946.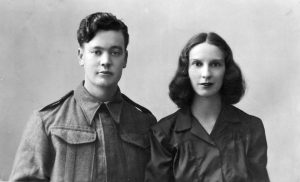 Patrick met his wife of 70 years while guarding the ESSO Depot at Hayle and resides happily in Cornwall.
The Celebration of 100 years
The party was organised by the The Rifles to honour the WW2 Veteran, as the DCLI is an antecedent regiment of The Rifles.
Major Hugo White, Chairman of the LI & Rifles Bodmin Association, and resident historian at Cornwall's Regimental Museum, had found some photographs and objects from the museum archives which related to the campaigns Patrick had fought in, during the Second World War.
The Birthday celebration was poignantly concluded with the Last Post, played by two Light Infantry Buglers, paying tribute to this remarkable soldier.