The museum
We're currently open three days a week for pre-booked groups. Our open days are Wednesdays, Thursdays and Fridays.
Head to our booking page to learn how we will be making your visit safe and to book your visit with us.

October Half Term – Where's Wally Spooky Museum Search!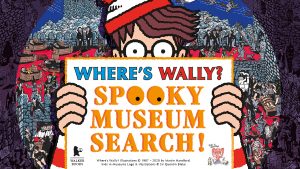 Book your visit during October Half Term, and join in the hunt for Wally in the collections at Bodmin Keep. Free activity booklet and bookmark for all spooky searchers.. and extra points for wearing your Wally outfits!!
26th – 30th October 2020
Learning Resources
We're adding exciting new content to the website every week – so do check out our Learning resources page to help with home learning!
Online Shop
Buying something from our museum shop is a great way of supporting the museum when you are unable to visit or need a gift for someone special. Take a look at our fantastic range of gifts, souvenirs, books and philanthropic purchases!

The Keep News
And don't forget to keep in touch with us via social media and sign up to The Keep News for all the latest news. (Sign up is at the bottom of this page!)
Online Tour!
You can still explore our historic building via our online tour.