31 July – 5 – 6pm
7, 14 & 21 August – 5 – 6pm
Join us for FREE one hour local heritage walks of Walker Lines, Bodmin's Second World War Army Camp.
Walker Lines today looks like any other industrial estate, but during our history walk you'll discover its fascinating story. Originally a huge military camp that housed thousands of British Army soldiers and the US Army in the run up to D-Day, there were 111 buildings on the camp including sleeping accommodation, latrines, a gymnasium and NAAFI stores.
This walk will show you some of the remaining buildings from the Second World War and bring to life its hidden heritage, with archive photographs and stories uncovered by our researchers.
This event is weather dependent and it would be advisable to wear supportive shoes.
Please reserve your place in advance by emailing: info@bodminkeep.org or calling 01208 72810.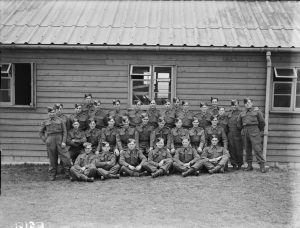 Image credit: Kresen Kernow
'Supported by our Second World War and Holocaust Partnership with Imperial War Museums, funded by the National Lottery Heritage Fund'