Ever wondered what goes into looking after a museum collection?
This week I spent some time with Verity, the museum's Collections Manager to find out what it takes to be a museum curator and what a typical day looks like when you're looking after the collection at Bodmin Keep.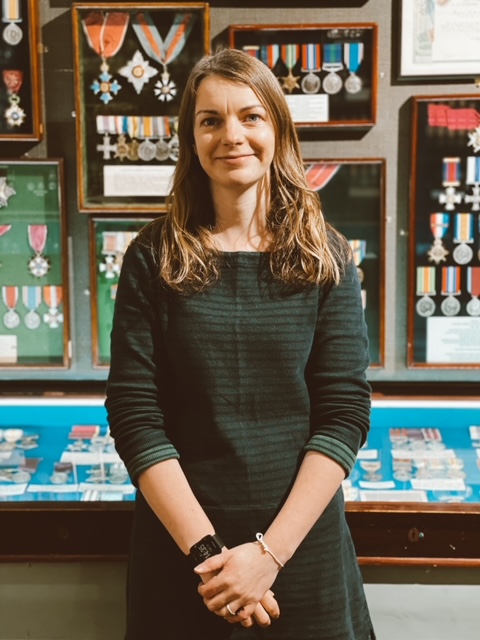 What is your job title and what do you do at Bodmin Keep?
My job title is Visitor Experience and Collections Manager, and what I do is a bit of everything! I'm in charge of all the collections, so that's everything you see here in the museum and all the objects in storage. I also look after all the 'front of house' aspects too – such as the museum shop, visitors, meeting rooms, welcome desk, all our lovely volunteers and some staff members too. I also wear an IT hat, so I maintain all the computers and assist on staff technical issues when I can.
Where did you work before?
I worked as a Collections Assistant at the Roman Baths in Bath. My job there was very different to this one, because my job there was all behind the scenes – looking after a collection which ranged from a 500,000 year old hand axe to a 2012 commemorative badge.
Did you always want a career in museums?
I did archaeology as a degree then did museum studies. My grand plan has always been to run a small museum, and the roles I had previously didn't give me the experience in retail and front of house I would need. So this was the ideal opportunity for me to get that broader museum experience and learn a new collection because military isn't my background.
When did you start working here, and how did the job opportunity come about?
So I'm that kid, who came down here on holidays and loved Cornwall. Mary Godwin the Museum Director at Bodmin Keep was already my mentor for a professional qualification I was doing at the time and I'd spent a couple of days down here with that. I loved the organisation and could see the direction it was going in, so when the curatorial position came up in Bodmin, I applied, got the job, and moved straight down – that was almost 4 years ago.
It's quite a change from roman artefacts, how was that collection transition for you?
Yes, it's a huge change! But I have always considered myself a generalist – But my collections background, though predominantly in archaeology, has always had other elements to it. Particularly the Roman Baths collection as it's more varied than you might imagine – it's a collection that has everything from a Victorian Spa collection to 2000 year old Roman coins! And really, once you know the nuts and bolts of looking after a collection and its special pieces, you can learn all the specialist stuff.
I was very excited by the change; it was a good opportunity to get to know a new collection, and get to work with objects in a new way, such as the textiles we have in this collection as I'd never worked with textiles before. It was also a really great opportunity to work with a collection steeped in social history.
How would someone access a museum career? Where should they start?
So, traditionally there has always been a lean towards people needing to have a Masters Degree to get a job in museums, but thankfully that is changing these days and there are a lot more museum training programmes around.
But I would say, if people are able, one of the key things you can do is get volunteer experience in your local museum. You can get really valuable hands on experience and it gives you an idea if a museum career is right for you, before the next step like a degree or completing a job application.
Are there any practical tips you can give a budding museum curator?
The thing about working in museums is, if your free and able, go beyond the community you know, that freedom has made my career. I've worked in London, Bath and now Cornwall, and it's that flexibility that has really opened up some great opportunities for me.
Another thing is, be willing to do anything and get stuck in. Don't think, I want to be a curator, therefore I only look at collections, as most curators always end up doing a varied role, particularly in a small museum anyway.
And also, find out what's in your local community, get to know your local museum; town museums are great, and are usually always after volunteers! Also, visit as many historic sites and houses as you can, see what is going on and how they are doing it – exhibitions, displays. Try and understand what makes it a great or not so great visitor experience etc.
A military museum is quite specialised, how do you bring it to a broader audience?
We bring it to life with the stories. It's all about human stories at the end of the day, it's all social history. We do have a traditional regimental collection with lots of uniforms and equipment, but behind it all are human stories which connect people. We create lots of ways for non-military people to get involved and interested in the collection, it's a conversation starter and a visit can connect all ages in a family – it's a place where the oldest member of the family to the youngest member can truly connect with the collection.
What does a typical working day at Bodmin Keep involve?
There is no such thing as a typical working day, and I never really know what's going to happen in a day – but I like the variety.
My day usually starts like most people's by checking emails, and if we're open to public then next I will open up the museum; turn on lights and get the areas ready for the visiting public etc. If it's a day where I am working on the collection, then I could be up in the attic – in our collections store, re-packing objects. If I'm working on the visitor side, I might be in-putting data or producing end of month figures for example. And then with my IT hat on for instance – I've just spent this morning running around dealing with upgrades to computers and looking at office licences – so as you can see, there's no such thing as a 'typical day' – and that's exactly what I love about it!
What's the biggest challenge of your job at Bodmin Keep?
That's a good question… I think it's time and not having enough of it to spend on every aspect of my job as I would ideally like. It gets easier with new members of staff and we just got 3 new team members, so that's definitely going to help!
What's the greatest challenge of curating exhibitions and creating a great visitor experience at Bodmin Keep?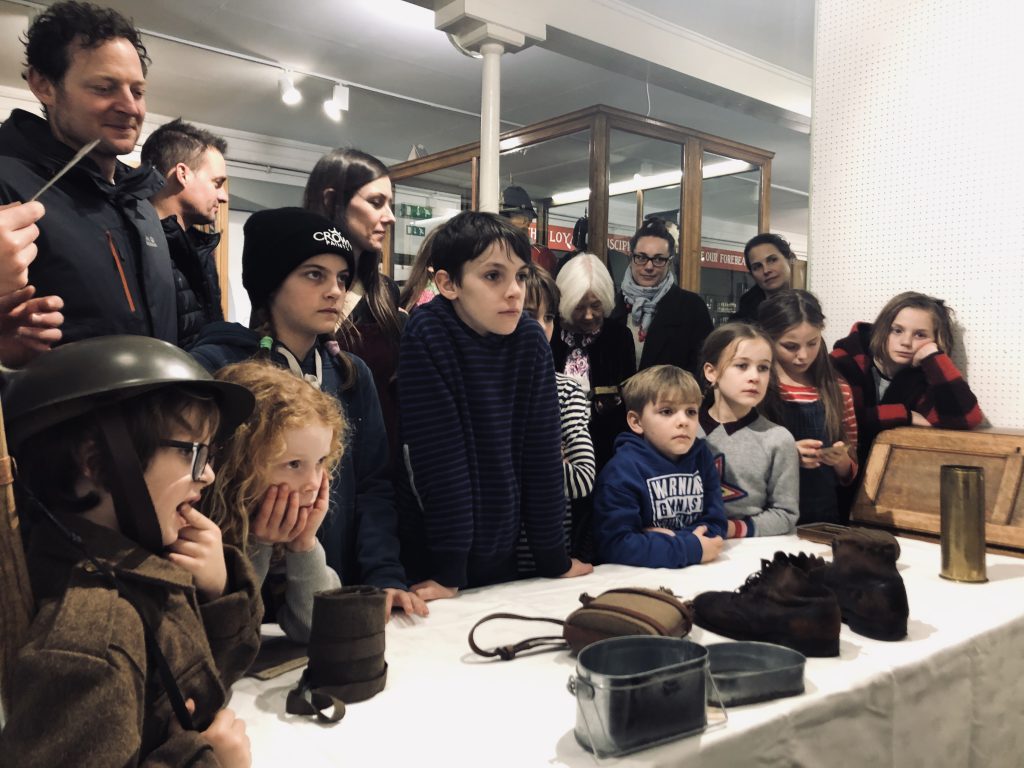 Making it interesting and relevant to people. It's looking at what topics will engage people who aren't military. For example, we have a exhibition on 'Frontiers of Fashion' at the moment. Fashion is a new theme for us and draws a connection between fashion and military uniforms, which helps reach a new audience. And we also have an exhibition about the Territorial Army, which will resonate with the community and people who are Cadets and Reservists. So it's keeping the galleries fresh and interesting and finding new ways of interpretation and reaching people with the objects in the collection.
What's the biggest strength of Bodmin Keep as a space for the collection?
I think it's the building – it's the historic home of the regiment and the collection belongs here; it's that authentic connection that is so important. Some of the collection has always been here, either because it was collected by the regiment historically, or is here because it belonged to the regiment.
The building is at the centre of everything we do. If you took away this building, the museum would lose something. We know the men who lived and worked on the site, they picked up their kit from here, you can see the loading hatch where they would receive deliveries from horse and cart, and you can see the pulleys about the place – it's that tangible use of the building and it supports the collection and brings it to life perfectly!
What's your favourite display and why?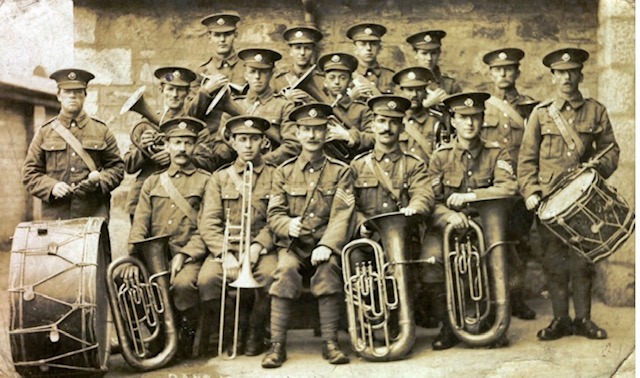 The music display because it was the first time we created an exhibition about music in its own right. It originated as a Citizen Curators project – The 'Military Music and Morale exhibition' and now it sits in the permanent galleries, providing a great opportunity to show another side to military life.
Which object in the collection is your favourite and why?
It changes all the time. I think my favourite at the moment is one which is not currently on display. It's two brass tankards made from shells which have campaign maps from the second world war engraved on to them. What soldiers did with the remnants of conflict is so inspiring and the detail on them is amazing!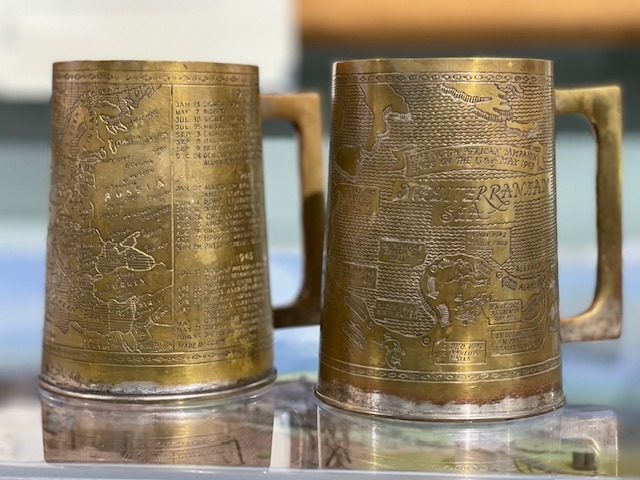 Another, would be the Lucknow Quilt, which is a museum favourite of many. I think I have a new appreciation for it recently though because, we all laboured under false pretences about it for so long. We used to think it was made by a group of woman at the Siege of Lucknow, but, when our Citizen Curators re-looked at it last year, they uncovered that we were wrong, and it had actually been made my one man at the siege. It's so beautifully made, so to think it's the work of one person during a very bloody conflict makes me love the piece even more.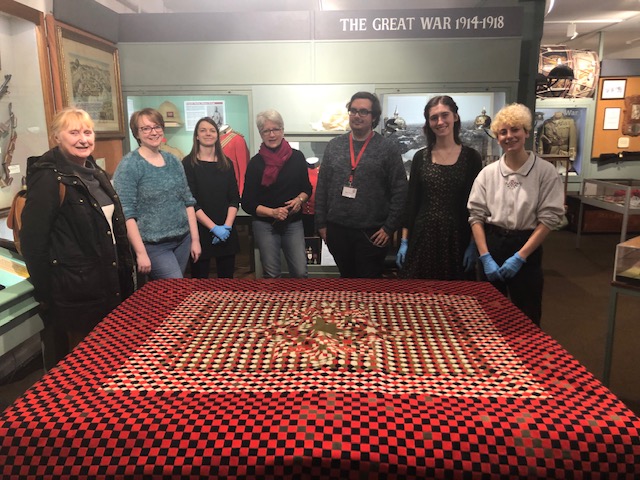 Do you ever get negative reactions to the weapons on display, and how do you balance guns with education and providing a fun visitor experience?
The way our galleries are displayed a visitor can avoid them if they would prefer too, however I do think it's important to display them. They are an integral part of war, and are displayed as a historic representation of conflict which is unavoidable when addressing war.
In the 'Weapons Through the Ages' sessions we regularly give during school holidays, we talk through the technical advances of the weapons and explain how they have evolved over time; from the bow and arrow to the Enfield Rifle for example. It's an unavoidable part of our history, but we use it to show how civilisations advanced through war, and therefore changed history.
They are very impactful. You don't often get a chance to actually see a gun up close, it's good to be reminded of the horrifying aspects of war.
What's the best bit about your job?
The people. Working with our museum team both staff and volunteers, and the public – I like seeing the visitors' reactions to the collections and how much people enjoy their visit. We are changing people's perceptions – bringing a different view on things that perhaps people might not have expected from their visit.
We are honouring soldiers from the past and honouring visitors who are impacted by their stories,
If you weren't a museum curator, what would you do?
I have absolutely no idea, although I am good at making sandwiches.. so, maybe I'd open a sandwich shop!
What the best thing about living and working Cornwall
The sea! Put me by the sea and I'm happy! The landscapes in Cornwall are like nothing else, getting out and walking is the best!