Hospital Care before the National Health Service
Before the NHS was created, patients had to face an unequal treatment system of voluntary and municipal hospitals. The stated purpose of most voluntary hospitals was to treat the "sick poor", with affluent patients mostly treated at home or in private nursing rooms. Consultants usually worked unpaid in the voluntary hospitals, relying on outside private practice for their income. Municipal hospitals were run by local authorities and carried the stigma of the workhouse.
'Lady Almoners' were women whose job it was to bridge the gap between patient need and ability to pay for the treatment they required. They took into account an individual's social background and family set-up and would decide an appropriate rate of charge for the medical treatment they needed, and assess if, and how, they had the means to pay for it. They also helped to make sure patients received the support they needed when they left the hospital.
The Outbreak of WWII
The Emergency Hospital Service (later called the Emergency Medical Service), was established at the outbreak of World War II in September 1939. It employed doctors and nurses to care for those injured by enemy action and arranged for their treatment across the range of local and charity hospitals that existed at that time. One of the challenges for the service was to deal with the 'normal' population of sick people while freeing up capacity to deal with injuries attributed to air raids or other attacks. Many hospital beds were kept empty in preparation for the expected influx of mass casualties from the fighting front which meant the routine sick suffered through being denied hospital treatment.
The Emergency Hospital Service coordinated all the hospitals under the Ministry of Health; the hospitals themselves were still administered as in peacetime but the Ministry dictated the type of work they did. The Ministry of Health had been paying for beds to remain empty in London, and re-opening routine beds when required. There was considerable opposition to re-opening of beds among voluntary hospitals, but public pressure and negotiations on doctors' remuneration contributed to the reorganisation of services and eventually the correct balance of bed allowance for the war wounded and the routine sick was achieved.
The Emergency Medical Service (EMS) was a loose alliance of separate organisations working together to deal with a national emergency and therefore paved the way for separate and competing institutions to come together thus proving to be a template for the National Health Service, which was launched on 5 July 1948 by the then minister of health, Aneurin Bevan, to provide healthcare that was free at the point of delivery.
The Bodmin EMS
One such EMS was located in Bodmin, based in a wing of St Lawrence's Hospital, an mental asylum as they were know at the time. It appears from our records that 2 wings at St Lawrence's had been given to the EMS to treat the war-wounded.
Within the archives of Bodmin Keep we have discovered a rather amusing album previously owned by a Nurse Olive Barnicoat who worked at the Bodmin EMS. It is a leather-bound autograph album, full of tender words of thanks, poems, funny limericks, drawings and portraits. It appears that Nurse Barnicoat would pass the book to her patients and invite them to add something to the pages. It seems that she had much affection from her patients and there are many remarks and thanks of her diligent care. Many of the messages have been signed by the servicemen she treated between 1941 and 1942.
There are 2 portraits in the book, and we can only assume they are of Olive, drawn with careful attention by her patients; FWE Pugh DCLI & a Sergent (signature illegible) in 1941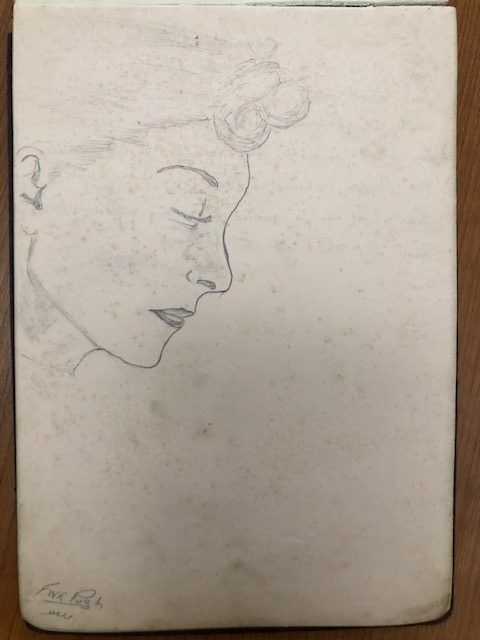 Let's take a look at some of the artwork…
The Hospital Letter
The following is something we can all relate to if we have ever stayed in hospital. Written by G E Lieston, Royal Artillery on 2nd April 1943.
A Posy of Roses
Gunner L. Brough, Heavy Anti-Aircraft Royal Artillery was at Bodmin EMS when he presented this floral picture on 19th July 1942.
The Cartoon
There were some who showed a talent for cartoons. The following is by Luther G Price in February 1942.
A love Letter?
And a reminder we weren't totally alone… In addition to the fact the piece here is drawn and written by a Canadian, Private R Harris of Prince Albert's Light Infantry, little did he or anyone else realise that in five days Germany would attack the Soviet Union.
A Post-War Ode
We will leave the final word to a relation of Nurse Barnicoat, maybe sisterly love? Interestingly, this little ode was written after the war.
Bergy
I don't know who 'Bergy' is, but he has told us a little of Nurse Barnicoat with the following poem, presented on 6th October 1941, copied as written.
There is a place which I know best,
It is in dear old Cornwall,
Falmouth is the gem of the West.
With creeks and rivers it is blest,
And its harbours considered one of the best,
In dear old Cornwall.
Now Barnie lives at Mylor Creek,
'Round the corner from Trefusis,
And she has a view of the Carrick Roads,
And Antony point which in days of old
Were the haunts of our seamen bold
Of dear old Cornwall.
I shall always remember Barnicoat
When I'm old and grey
And I'll think of you in Cornwall
With its sea and sunshine gay
And maybe I'll come and see you someday
With love from poor old Bergy.