Private Patrick Linehan of the DCLI celebrated his 100th Birthday this year at Bodmin Keep. He has also recently taken part in our Oral History Project where we are recording first-hand experiences of life during war and archiving them for future generations. Patrick fought in Italy during the Second World War, and you can read more about his remarkable story here.
Patrick was taken prisoner in 1944 and spent time as a PoW in Munich until 1946. He recounts that this wasn't too bad an experience and he was given a job making 3 metre concrete lintels with a crew of fellow PoW's.
On completing his oral history recording, Patrick wanted to gift a special item from his personal collection to the Museum.
The Tiny Chess Set
The item accepted into the museum collection was a small chess set that Patrick owned whilst a Prisoner of War in Munich in 1945. It survived the Prisoner of War Camp and Patrick has cherished it all this time. The chess set was designed by American company, W.M.F. Drueke & Sons. They were designed as 'pocket' sets, small and compact enough to be carried by servicemen with their kit, with tiny plastic playing pieces which are contained in a drawer below a small wooden board.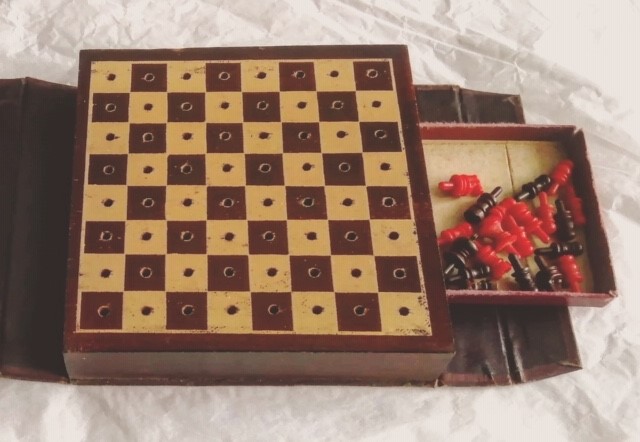 Patrick was given this chess set by a South African Prisoner of War whilst they were both held in captivity.
Red Cross Parcels for PoW's
In Prisoner of War camps, particularly in WWI and WWII, the prisoners would receive parcel deliveries from The Red Cross. These parcels would have been a very welcome sight, containing food, chocolate, cigarettes and sometimes items to help pass the time and keep the PoWs entertained, like playing cards and games.
A Prisoner of War camp relied heavily on these parcels. They supplemented the overall food supplies on the camp, as all food from the parcels was given to the communal kitchen. The parcels also raised morale and and gave the men something to look forward to and the chocolate or cigarettes would have been a good barter product to trade with guards and prisoners alike!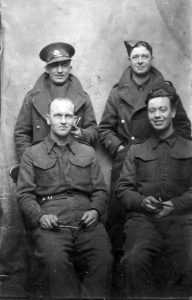 Patrick remembers that the parcels also caused some disputes; the Americans were known for taking control of divvying up the parcels, so to stop this the South Africans in the camp would sometimes throw them in the latrines!
Considering its age and the journey it's been on, Patrick's chess set is in fantastic condition. Only two chess pieces are missing and have been replaced with a button and a popper! To think this little set has survived so well in a Prisoner of War Camp and carried back with him, tucked in his pocket whilst on a Lancaster on his way home to Britain, via Belgium once released from the camp.
The chess set will be added to the museum's WWII displays soon, so do look out for it!