The Boer War
The Boer War dates from 1899 – 1902 and was fought between the British Empire and two independent Boer states, the South African Republic and the Orange Free State. The origins of the war were complex and stemmed from more than a century of conflict between the Boers and Britain's imperial influence in South Africa.
During the Boer War, the British notoriously rounded up tens of thousands of civilians; women, children and the elderly – and kept them in what amounted to the first concentration camps. And with unsanitary conditions and a very poor diet, around 27,000 women & children died in these camps.
The British had also made no provision for dealing with male combatant prisoners within South Africa, so Afrikaners were sent to camps over seas so they couldn't escape and re-join the fight. Thousands of Boer men captured during the Boer War were sent to Ceylon (now Sri Lanka), St Helena and India and several hundred Boers who fled to Mozambique to escape the fighting ended up in detention in Portugal.
Around 2000 captured Boer combatants were detained on the island of Ceylon (now Sri Lnka), in a large camp at the hill station at Diyatalawa.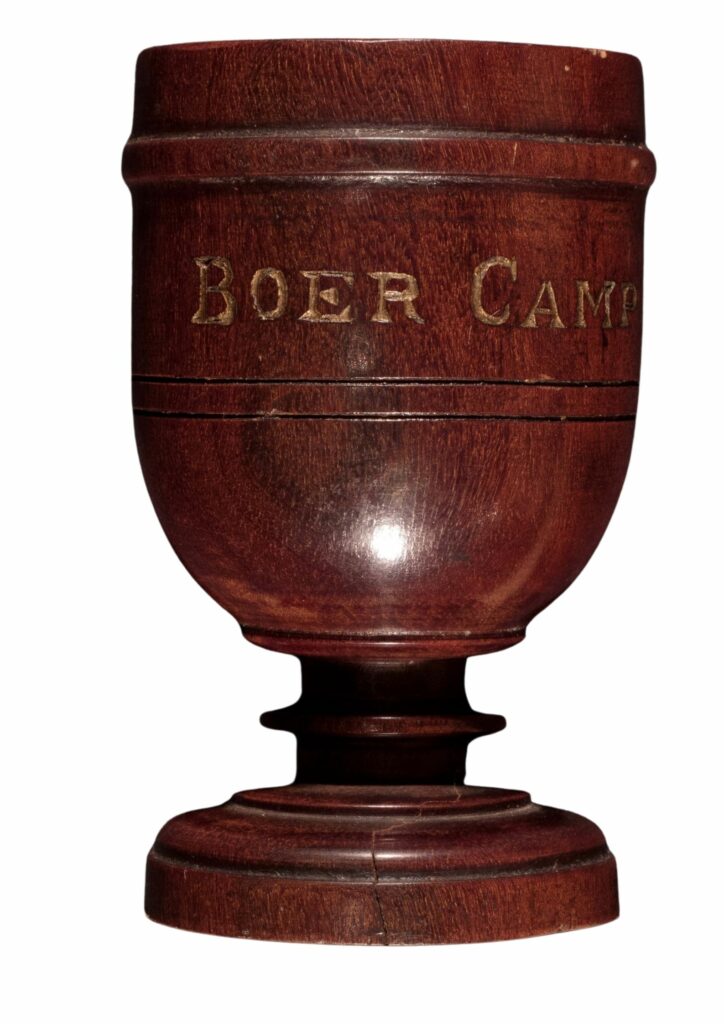 The Hand Carved Egg Cup
The egg cup pictured was made in Diyatalawa Camp in Ceylon (now Sri Lanka). On one side of the egg cup is inscribed, 'Boer Camp', on the other side 'Ceylon 1902'.
The egg cup has been hand carved from black ironwood – a bushy shrub, or small tree which belongs to the olive family. It is widespread in sub-Saharan Africa. The wood of the tree is very hard, fine grained and heavy, and although difficult to work with it is often used for artisan crafts.
The egg cup was carved by a prisoner of war held at the camp, perhaps he kept a piece of wood in his pocket, taken from his homeland and carved it to keep himself occupied whilst imprisoned.
The egg cup was owned to Horace Rowland Mason, who served with the DCLI, although we know not how he came by it. We do however know that it was at this camp that the 1st Battalion Duke of Cornwall's Light Infantry were keeping guard at this time.