One of the highlight pieces in the museum's collection is a German Pickelhaube helmet punctured with a large bullet hole. A seemingly ordinary piece of war memorabilia perhaps, that is until you realise that this bullet hole is thought to be the very first shot fired by British Infantry in the First World War.
The shot was fired by a young Private Sambrook 1 DCLI, who had joined up from London in 1911 and was drafted into the 1st Battalion Duke of Cornwall's Light Infantry.
First on the Western Front
The 1st Battalion Duke of Cornwall's Light Infantry had arrived on the Western Front in August 1914 and was among the first regiments at the frontline. 1DCLI was stationed at The Curagh, Co. Kildare when Britain declared war on Germany on 4th August 1914, and by August 15, 1914 they had landed in Le Havre ready to proceed to the Western Front.
The British expeditionary force made its way north to Belgium, to an initial blocking position on the Mons-Conde Canal. It moved by night, and so good was their security that the German intelligence staff failed to discover its presence until contact was made in the early hours of August 22nd by a patrol of the 4th Royal Irish Dragoon Guards which surprised a German cavalry picquet.
Mons-Conde Canal
On the evening of August 22nd the 1st Battalion DCLI arrived at the Mons-Conde Canal and were deployed on the left flank forward of the canal itself, guarding one of the bridges over which the cavalry were to be withdrawn. 'B' Company of the DCLI were forward of the bridge and had a 3-man sentry post concealed in a ditch at a bend on the road two hundreds yards ahead of the main position. At 6am a patrol of German dragoons (soldiers on horseback), totally unaware of the British presence, rode around the bend.
Private Sambrook of the DCLI, one of the 3 men in the ditch, waited until the dragoons' officer was level with him, then shot him through the head at point blank range. The rest of the German patrol turned around and the British soldiers fired into them as well.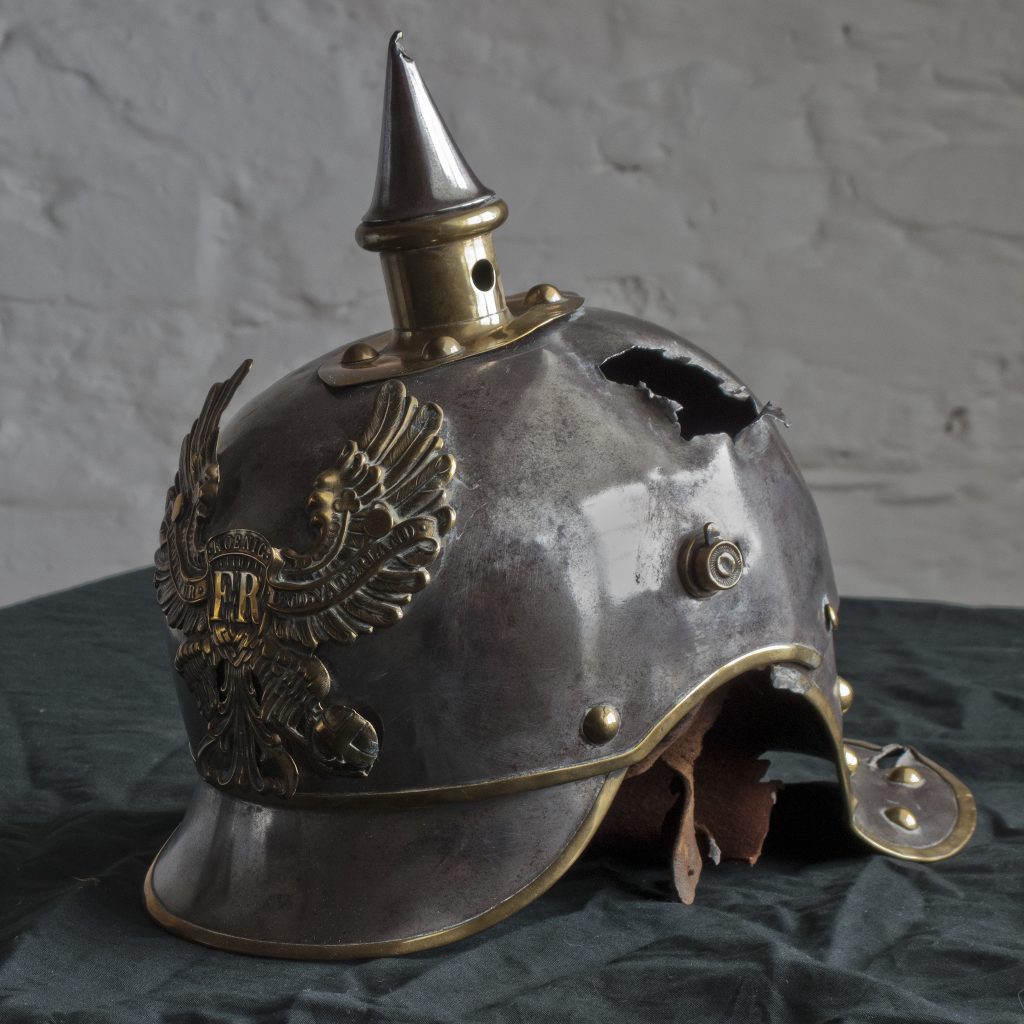 The regiment later took the helmet from the dead German soldier as a war trophy, not knowing the significance that it bore the first shot fired in the Great War and which raised the curtain on the Battle of Mons.
Despite being credited with firing the very first shot of any British soldier, Private Sambrook did not enjoy his moment of glory for long. He was killed at the Battle of the Aisne three weeks later.
His body was never recovered, so his name is on the Menin Gate Memorial at Ypres.