The Military Footballer
Alfred (Alf) Ramsey is most well known as the extraordinary football tactician who led the England Football Team to World Cup Victory in 1966, but not as well known is that Alf Ramsey emerged as a talented footballer whilst serving with the DCLI in Cornwall.
The General
Essex born Alf was born in January 1920, nicknamed "The General", he played for England 32 times between 1948 and 1953, captaining the side three times, scoring three times and appearing in the 1950 World Cup. He played for the England national team as a defender in the 1950 world cup and captained the side on many occasions but was best known as the England manager (1963 – 1974) who took Captain Sir Bobby Moores team to victory in the 1966 World Cup.
He also managed them to third place in the 1968 European Championship and the quarterfinals of the 1970 World Cup and the 1972 European Championship, respectively. He was knighted in 1967 in recognition of the World Cup win.
Alf Ramsey's illustrious football career, wasnt the only way he served his country. His footballing attributes were recognised as a boy but really emerged through his military service, playing for his battalion side in the DCLI.
Military Service
On 24th June 1940, after the outbreak of the second world war Ramsey was conscripted to the British Army and travelled to Truro to undergo training with the DCLI. Recalling this in his autobiography he said "Until I travelled to Cornwall the longest journey, I had undertaken was a trip to Brighton by train".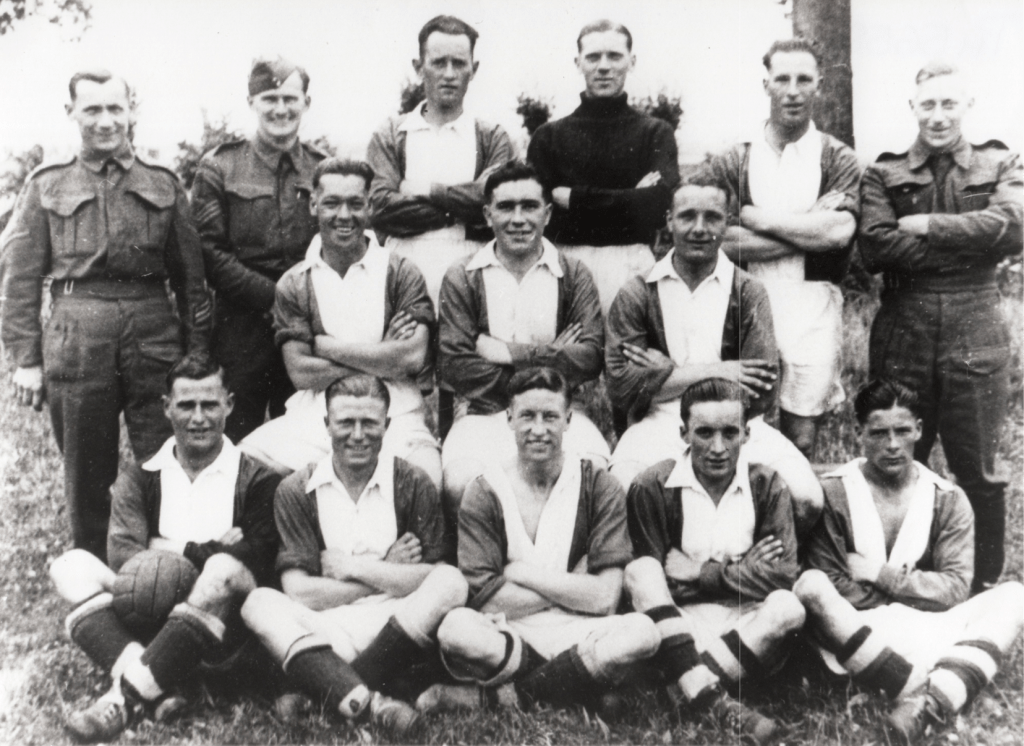 Wartime Football
During his time in service Ramsey played football regularly and showed promise as a talented amateur footballer and soon became captain of the battalion team, which was seldom beaten by other regimental sides. He was posted to St Austell in 1940 where he manned beach defences for 3 years, here and at other various seaside postings, Alf's main role in the war was defending Britain on home soil. For most of his service Alf Ramsey was a Serjeant, being promoted to Colour Serjeant towards the end of the War. Writing in 1952, Ramsey would call joining the army "one of the greatest things which ever happened to me", adding "I learnt, in a few weeks, more about life in general that I had picked up in years at home"
Military life taught Ramsey about discipline and leadership, and improved his social skills: "I have never been very good at mixing with people but you have to in the army or else you are in trouble", the journalist Nigel Clarke recalled him saying.
In 1943 1DCLI were stationed at Hampshire, where he came under the command of a Colonel Fletcher, himself an accomplished footballer and whilst stationed there the Battalion team played against Southampton FC. He must have made quite an impression on the manager as shortly after Alf was signed as a professional with the club.
The regimental journal of the DCLI "One and All", in November 1945, records that the Battalion team had a fantastic season playing 22 games during the 1944-45 season: winning 19 and losing only 3. Playing against a range of military, professional and amateur sides.
The Battalion team at this time was made up of 5 professional footballers; Ramsey and Stear who played for Southampton, Townsend who played for Brentford and West Ham, Hodges who played for Brighton and Arsenal, and Brown who also played for Brighton.
At the end of the war, Alf went with 1DCLI to Palestine, where he served until he was demobilized in 1946. In Palestine he captained the Palestine Services XI. A programme from a match in February 1946, shows the range of serving soldiers who were also professional football players. Alf was playing alongside and against members of the Arsenal and Chelsea teams.
After leaving the Army he played for Southampton until 1949 when he joined Tottenham Hotspur playing for them until 1955. During this time he also played for England, winning 31 caps, 3 of them as captain.
Ramsey retired as a player aged 35, moving his sights to management, becoming manager of 3rd division Ipswich Town in 1955, a post he held until 1962. With Ramsey's expert management of the team and his immense grasp of the tactical game, saw Ipswich rise through the divisions over the next six years, winning the Third Division South in 1956–57 and the Second Division in 1960–61.
And in their first ever campaign in the top division, Ramsey's team defied expectations to become champions of England. With his remarkable success with Ipswich, Ramsey was asked to take charge of the England team a year later.
The Road to Wembley – A National Hero
In 1962 and off the back of the immense success with Ipswich Town, Ramsey was appointed manager of the England team. His team's most famous victory was of course winning the 1966 World Cup against Germany.
Alf Ramsey's management style was unique and not common practice; using a narrow formation that led to his England side being dubbed "The Wingless Wonders". England's World Cup victory at Wembley in 1966 made Ramsey a national hero and Alf Ramsey was knighted in 1967 and continued to serve as England manager until 1976.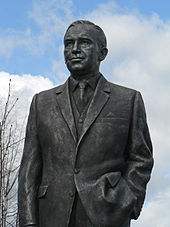 After managing England, Ramsey briefly held football-related roles at Birmingham City and Panathinaikos, before retiring in 1979–80. A statue of Ramsey was dedicated at the reconstructed Wembley Stadium in 2009, and various honours have been afforded to him in Ipswich. He became the first person to be inducted to the Hall of Fame twice when, in 2010, he was included in the Hall of Fame as a player as well as a manager. He remains widely regarded as one of British football's all-time great managers.
He died in April 1999 at the age of 79.